QUALITY PRODUCTS WITH PREMIUM SERVICE
For the largest range of spray equipment in Australia and product knowledge to match.
Contact the SprayerBarn franchisor on (02) 6882 0313
Whether it's a hand operated pump spray for a large backyard or driverless equipment to cover several thousand acres and monitor real time data, SprayerBarn has the market covered. As the largest retailer of spray equipment in Australia, we are sprayer specialists.
For today's farmers, modern spray equipment is no longer a luxury. With technology changing at a rapid pace, it's our job to be at the cutting edge and work with our customers to reach their cropping and business goals, with a firm eye on the bottom line.
Our team has more than 200 years of combined industry experience and the knowledge to help you find the most efficient option that will save you time and money.
To contact the SprayerBarn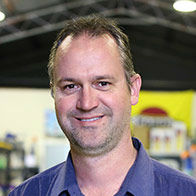 Dan Szymkow
Dan Szymkow, founder of the SprayerBarn group and manager of the Dubbo store, has a total of 25 years of international spraying experience under his belt, with 15 of those years spent in precision agriculture.
Dan started out with a Bachelor's Degree in Applied Science, Agriculture, inspired by a long time passion for agriculture and rural Australia and his desire to build a career supporting farmers. Dan has experience in manufacture and production of sprayers, R&D for sprayers, precision agriculture and steering. He's also been involved in running spraying technology training and seminars throughout Canada and the northern United States.
When he isn't working with customers or building the SprayerBarn name, Dan enjoys spending time with his family along with a spot of fishing, hunting and camping.
Glenn Wilde