Sponsored by Commonwealth Bank since the 1970s, SprayerBarn returns to the premier agricultural industry field event this year. The annual Commonwealth Bank AgQuip will be held on Tuesday, Wednesday and Thursday 16th – 18th, August 2016 in Gunnedah, NSW.
Come say G'day to our team and learn SprayerBarn's story
Like the customers they serve, Daniel and Alison Szymkow are proud country people. Raising four children in the country, it's been almost a decade since SprayerBarn started in humble beginnings in Dubbo and almost a decade of coming to AgQuip.

Daniel has been involved with designing, manufacturing and selling sprayers for more than 20 years, working with all the main brands and becoming an authority on spraying techniques across the world.

With this experience, Dan is able to offer farmers ways to improve their efficiency and to use spraying technology as a way to claw back some of the margins or as a way to stay ahead of the game. Whether you're just starting out or are looking for ways to change up your processes, SprayerBarn will be happy to help.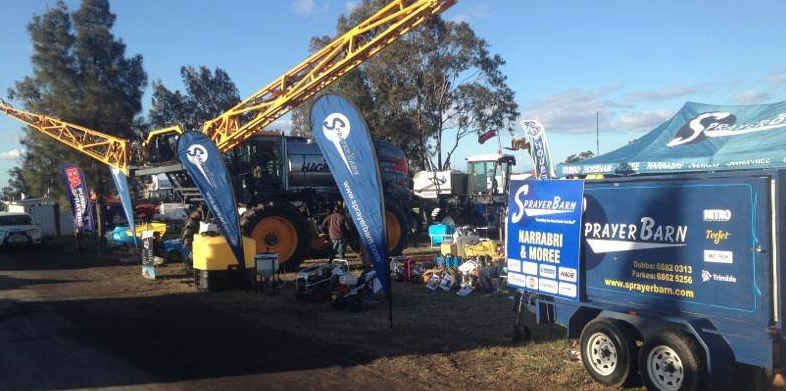 We'll be rolling out some of our best sprayers for one of our favourite field days 
At AgQuip, we'll be stocking some brands and equipment that will be familiar to you and some that are not so familiar. With self-propelled sprayers from Hagie, Househam, Goldacres and Hardi fast sprayers and landquip trailing sprayers, BA Sprayers, Cdax and GPS technology from Agleader, the SprayerBarn stall will be stocked with a range of leading brands for you to enquire about and try for yourself.

Beyond what we'll be selling on show day, if there's a particular brand or item you've had your eyes on, come and talk to us. If you just want a yarn and are looking for a solution, come by and one of our experts will be able to answer your questions.
If you like big and efficient, ask us about the 48.5 metre self-propelled and trailing sprayers that we have on offer, giving farmers less time in the sprayer, less fuel used in the tank, but more ground covered.
Got any questions? Subscribe to SprayerYarn for more updates from our experts orfollow us on Facebookto hear from us in the lead-up to the AgQuip and find out where we'll be.