Spraying for the first time can feel daunting. What nozzles are best? What size boom should I use and what type of pump is there? With a wealth of experience and knowledge in spraying we thought we would share what we've had to learn the hard way. We know that gearing up to go spraying can be expensive, so we have included some tips that could save you some money along the way.
What is the optimal boom size?
First thing to consider is you will need a boom that will be able to be towed or attached to your tractor, ute or side by side. The size of the boom depends on the area of land that you have to spray. We have manual fold booms available in widths of 4 – 12metres and hydraulic fold available in larger sizes. Smaller booms can be mounted on any vehicle while larger booms have their own boom frame. Large boom frames have features like folded end sections (which reduce overall width) and also boom breakaways (to reduce damage on the boom edges).
View our full selection of booms here
Benefits of picking the right nozzle
Spray nozzles can have a big impact on crop yield, plant health, efficiency of pest control and of course, profitability. Nozzles are precision-engineered for specific applications, so it is essential to use the ones best suited for your operations.
Ideal spray patterns
Most nozzles are available as tapered-flat fans. Some are also available as even-flat fans.
Tapered-flat fans are most commonly used on booms to achieve the required double overlap. Even-flat fans are normally used for banded spraying, under shielded sprayers and on target selectable sprayers.
Where a blanket coverage of chemical is needed, broadcast application of chemical ensures all areas under the boom are covered by the chemical. Farmers with crops in rows can spray in bands and do so by covering only the area that is under crop, saving time and money on chemical; this is called banded spraying. In broadcast applications with nozzles normally spaced at 50cm, spray patterns are overlapped to ensure absolute blanket coverage is achieved.
Your step by step for nozzle selection
Here we will outline how to select appropriate nozzles using manufacturer's spray charts.
STEP 1: Determine the application volume (L/ha) and spray droplet size (check the label of the chemical you are using) e.g. 50 L/ha at 14-20 km/h using a coarse spray droplet.
STEP 2: Use the nozzle chart to find nozzle sizes and pressures that give the desired L/Ha at your speed (km/h) e.g. 50 L/ha at 14-20 km/h with a 50 cm nozzle spacing.
STEP 3: Identify suitable nozzle types based on the droplet size and a pressure that is in the middle of the operating range. Note that there will be many variations at this stage. Select the nozzle e.g. 02 nozzle @2bar gives you 49L/ha at 16km/h. Or you can use an 025 Nozzle @ 2 bar giving you 49L/ha at 20km/h or an 03 nozzle @ 1 bar giving you 51 L/ha.
STEP 4: Use the Nozzle selection guide and the pressure to match the droplet size you are looking for. For example, if you are looking for a medium droplet then the 02 nozzle @2 bar will give you a medium droplet if you use an Turbo TeeJet nozzle
If using an 015 nozzle with a medium droplet you can do this by dropping speed to 14km/h a@ 3bar.
Utilising and 025 nozzle you can achieve a medium droplet size by increasing your speed to 22km/h and using a pressure of 2.5bar
Exercise caution when selecting pressures that are at the extreme high or low end of the operating spectrum as too low a pressure will cause the spray pattern to deteriorate and too high a pressure will cause undue wear on spraying components.
See the video below that shows an example of nozzle selection.
Here are the Teejet nozzle selection guide we are referring to. Download the PDF chart or open the images: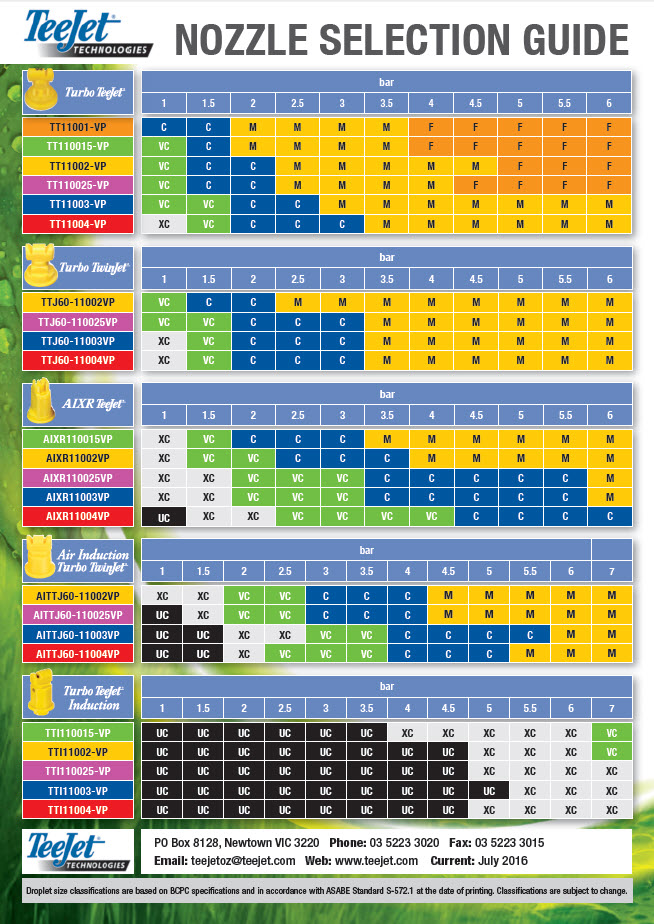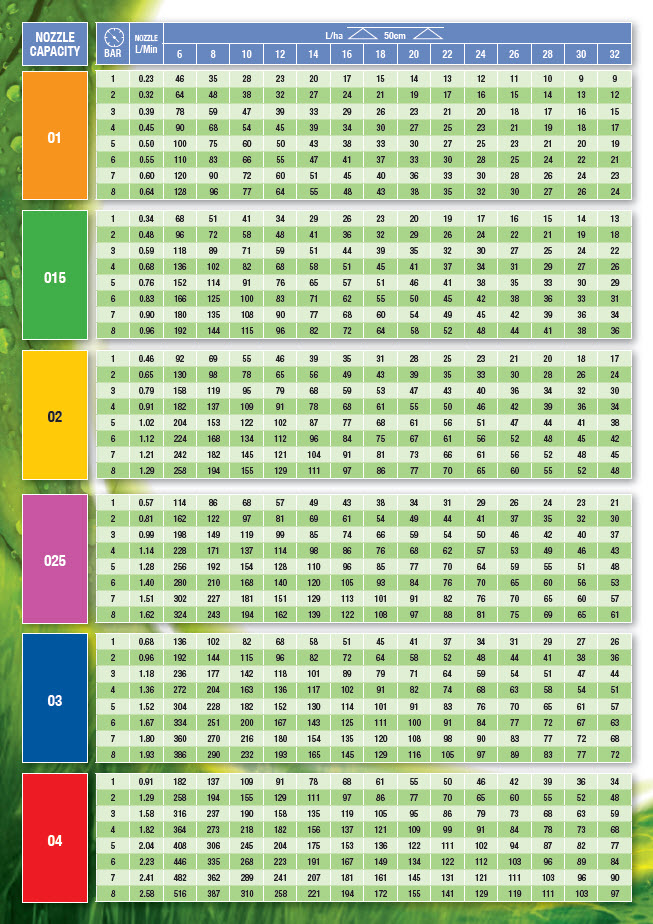 We hope you found this article useful. For any questions or if you have a TOP TIP to share, we encourage you to comment below.
Alternatively, if you would like to speak direct to one of our expert Sprayerbarn staff, click here.
The SprayerBarn team