Following on from areas in NSW that were affected by spray drift last summer, and in particular cotton growers, there has been much discussion regarding herbicide application. As a result of substantial damage to crops the approach to remedy the situation has been meetings by interest groups to educate about the application of herbicide and a government interest to have the industry clean up its own backyard with support from government bodies and departments.
The result has been two-fold, industry action, information and education and NOW, LEGISLATION.
The grassroots campaign started in the central west Macquarie Valley where crops had been hit by off target spray drift, opting for education through the whole industry including growers, operators, contractors to advisors.
Held across five locations the sessions were a team effort between the NSW EPA, growers, agronomists and resellers. The newly formed SOS (stop off target spray drift) committee quickly formed to coordinate events and all were well attended. Chemical expert Mary O'Brien and Adama representative Harry Pickering presented at the events.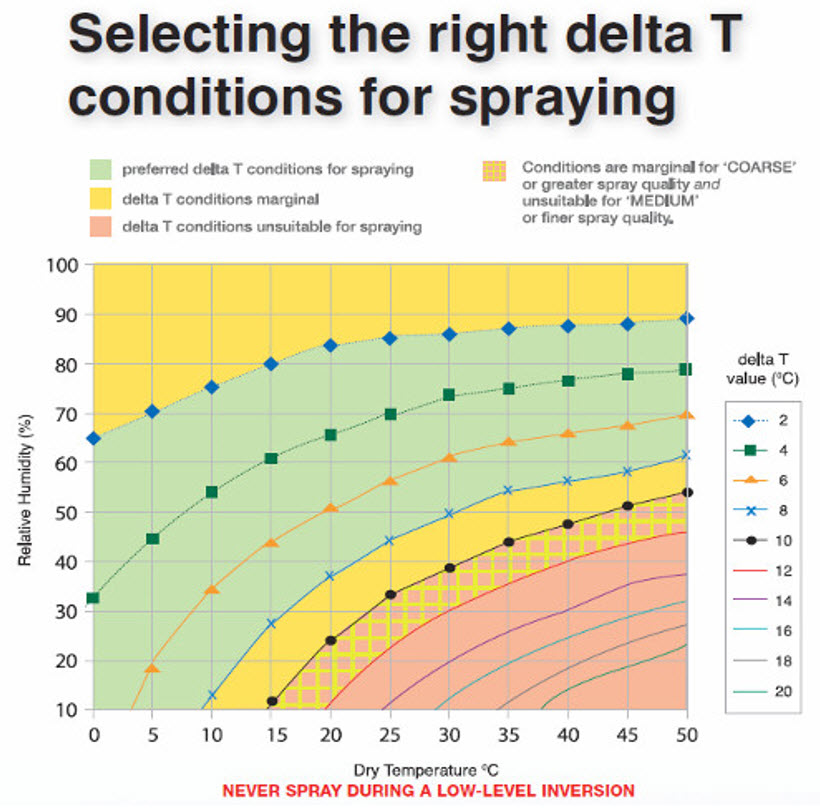 Harry Pickering said there were two take out messages from the event.
Firstly, there is the sprayer boom setup.
"How we set up the boom will determine how much product is left in the air." Sprayer boom height, pressures and the type of nozzle all contribute to the efficient application of herbicide finding its target.
Secondly there are the weather conditions
Spray drift will move further when spraying is conducted at night and in the early morning. There has been an over-reliance of using Delta T as the absolute determinant for Spraying.
"Delta T should be used as a guide only" said Harry Pickering. Using the 24-hour risk profile chart (shown below) in conjunction with Delta T is recommended as the best outcome.
Along with the community education, the Australian Pesticides and Veterinary Medicines Authority (APVMA) have also taken action to address concerns about damage to non-target crops and vegetation from 2,4-D physical droplet drift and long range inversion drift.
See the 24 hour risk profile for summer spraying infographic made by Nufarm
Some relevant take outs from the new Legislation<
Do not spray during a temperature inversion and more information is detailed on identifying the occurrence of inversions.
There is Mandatory Downwind No Spray Zone for both aquatic and terrestrial off target
Do not apply unless the wind speed is between 3 and 15 km-h at the application site and during the time of application. This is closely linked to the inversion layer detection but now expressly forbids spraying between these wind speeds.
There are additional mandatory recordkeeping requirements detailing each spray application within 24hrs of the application with the records to be kept for 24 months.
For boom sprayer application:
Boom heights to be lower than 0.5m above the crop
Droplets size of nozzles to be not less than VC
Minimum distances between application site and downwind sensitive areas ..see buffer zones for boom sprayers.
There is an advisory statement in regard to spray application over summer for cereal, pasture, and fallow spray applications.
A significant change is the ADVISORY statement for cereals, fallow and pastures between October 1st to 15th of April "Use 04 or bigger TTI or equivalent nozzles that producers extremely coarse (XC) to ultra coarse (UC) droplets"
The other significant change is the mandatory DO NOT statement for spray quality "DO NOT apply with spray droplets smaller than VERY COARSE spay droplets according to ASAE S572 definition for standard nozzles
Statement from APVMA site 2,4-D
Issue
Incidents of spray drift damage attributed to 2,4-D have been reported for a number of years with significant incidents in the last two summer spray seasons, and the APVMA has been working closely with grower groups, state and territory authorities, and other stakeholders to develop new label instructions to reduce the likelihood of off-target damage due to spray drift.
We consider that currently approved 2,4-D labels do not provide adequate instructions to effectively mitigate risk associated with spray drift.
We have notified registrants that we propose to issue new instructions for use for approximately 220 products containing 2,4-D to include mandatory no-spray buffer zones for the protection of non-target vegetation and aquatic areas, and to provide additional instruction to ensure that application does not occur during temperature inversions. The suspension and approval of new label instructions will address the risk of damage to non-target crops (such as cotton or grapes) and other non-target vegetation from 2,4-D physical droplet drift and long range inversion drift.
We expect the new label instructions will come into effect in October. These changes only relate to record keeping and application technique including spray quality, timing, and the observance of buffer zones, and do not change or restrict other aspects of the currently approved use patterns and should not affect product availability.
In light of the draft legislation SprayerBarn, Daniel Szymkow Director of Sprayerbarn strongly suggests the following for on label application:
"The recommendations that were in draft form have been finalised and now Legislated and larger spray qualities (VC, XC & UC) for all 2,4-D herbicides, including amine and ester formulations are now mandatory.
This will result in significant demand for nozzles that produce larger droplets (such as the TTI and new TTI60) to ensure applicators are on label. Note the TTI and TTI60 are the only nozzles in the TeeJet range that do not produce coarse (C) droplet size (at higher pressures) for the capacities farmers generally use i.e. 015, 02, 025, 03 & 04.
We strongly advise that you consider your existing inventory of these nozzles and as assistance Sprayerbarn will offer 20% discount for quantities of 25 or more nozzles purchased:
The TTI60 TeeJet air induction twin flat spray tip provides extremely large droplets for maximum drift control along with the improved coverage of a twin spray.
More information about the Teejet TTI60 nozzles
TTI Turbo Teejet Induction Flat Spray Tips. These fall within the droplet size recommended in the legislation for reducing spray drift.
More information about the Teejet TTI Nozzles
Reasons for off target spray drift
In our 10 years of experience here at SprayerBarn we have found that there are a few reasons for off target spray drift:
Wind Speed: Ideal spraying conditions are approximately between 4km/h and 16km/h. Spraying outside these conditions only increases the risk for dangerous air movement and spray drift damage.
Low wind Speed: at wind speeds less than 4km/h there is an increasing risk of spraying in a temperature inversion layer. This is where the temperature of the air increases relative to the height off the ground. Droplets of (cool) spray from nozzles are therefore caught under a layer of warm air and hang in the air until such time as the air cools, when the spray droplets settle on the ground ...or on the coolest crop.
High wind speed: When the wind increases to a speed greater than approx.. 16 km/h the likelihood of spray drift increases. Spraying in these conditions should not be attempted.
Delta T: Delta T is the relationship between humidity and temperature and is displayed as a graph that is readily available. A Delta T of greater than 10 and less than 2 is referred to as not optimum for spraying. Why? … a delta T of greater than 10 refers to conditions of high temperature and low humidity where to the droplets from your sprayer have the potential to evaporate (albeit partially) before hitting the plant.
A delta T of less than 2 can result in high humidity and lower temperatures – ideal conditions for an inversion layer to occur.
Some are facing complete crop loss due to off target spray drift and as a result of the the Christmas Day damage reported a group has been formed to discuss the issues and formulate a response. The group comprising of the Department of Primary Industries, Environmental Protection Authority, Cotton Australia, growers and SprayerBarn as sponsors met in Dubbo on 23 February to discuss the issues. With all the attendees voicing their opinion, the emergency meeting decided to produce flyers to be distributed to growers detailing some of the information discussed above and to recommend the use of TeeJett TTI nozzles.
Use of TeeJett TTI nozzles
The meeting concluded that the use of TTI nozzles would be the best way to combat the marginal conditions that we are often faced with (Deta T less than 2 or greater than 10, and wind conditions of greater than 16km/h and less than 4km/h) as the droplet size is large enough to deal with inversion layers and reduced efficacy due to high temperatures.
The Teejet TTI nozzles can be purchased at SprayerBarn to assist growers during this difficult time.
Events & Resources
SOS strategic plan - draft by SOS Macquarie Valley
The purpose of this document is to capture the agreed approach and outline the forward plan for SOS Macquarie to enable better spray practices in the Macquarie Valley. It is designed as a set of actions that will bring about practice change in the Macquarie Valley and go on to be used as a template for other irrigation valleys throughout agricultural areas of NSW.
Growers and applicators FIELD DAY
FREE field day aimed at encouraging effective use of spray equipment.
When: Thursday 6 September, 10am - 4pm
Where: Trangie Ag Research Station, Mitchell Hwy, Trangie
This field day will support SOS Macquarie Valley's objective or reducing off-target spray drift across the Macquarie Valley
Lastly updated by SprayerBarn experts on 27th September 2018